Phase One

Phase Two

Phase Three

Phase Four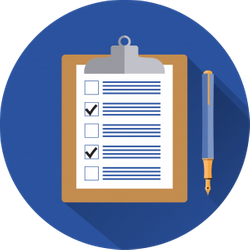 Quick Service Restaurant and Retail Design Group is here to provide you with all the services you need when designing your restaurant or any other food industry establishment. As a full-service architecture firm, we are here to help with everything from the first email to the day you open your doors for business!
In the preliminary design phase of the project, we make sure that your requests can be fulfilled by determining specific requirements from the jurisdiction related to the allowed use of the property, allowable signage, drive-thru requirements, grease abatement, and many other challenges that need to be addressed before we move forward with the project. We conduct on-site investigations of the proposed projects making sure that the zoning and building codes are set in a way that will ensure a green light to continue forward with the design. The survey teams are sent to the site to do measurements, document the existing conditions of the building, and create an "as-built" plan for our designers to use as a basis.
If the site for your new endeavor is being constructed or you are leasing a new space, we will work with you and the landlord to determine the most cost-effective way to execute the landlord work letter. The lease contract will be fully reviewed to ensure our design matches your needs as much as it fulfills the lease clauses.
All the information gathered in the first phase of the project will be documented in a comprehensive report for you to use as a guide in determining which route to take to begin the proposed development.
There is no task too small or too big for us to design. From the designs of a food truck to the intricate layouts of a high-end restaurant, Quick Service Restaurant and Retail Design Group will fulfill your needs for your investment. Our services are available anywhere in the country. If you need a restaurant design, we will be there for you!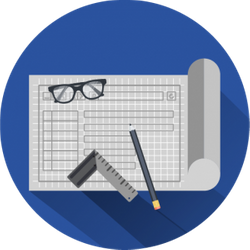 Phase two of the project consists of the design. There are many things to consider when it comes to creating the plans and the designs of a restaurant or foodservice establishment. The team at Quick Service Restaurant and Retail Design Group has been working in the architectural design industry for over a decade and we work hard to provide you with the plans and structure for a project that you will love.
Here are the things we consider when designing the dining and public areas for your future restaurant business: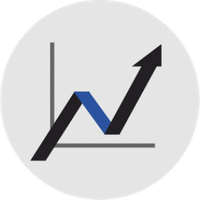 Optimize and Maximize
The layout of your business will define how friendly the space you offer your customers is and how easy it is for them to traverse through it. The business model and style will define this area the most. For a higher-end restaurant, the tables can be more separated to allow the diners to enjoy a more intimate experience. A coffee shop or a fast-food restaurant will have less space between the tables since it is a more casual experience for customers and the turn-over rates are higher.
The dining room is not the only thing to consider when designing the layout. Serving areas, cashier stands, waiting rooms, host stands, bar areas, and many other areas, are just as important to keep in mind. We look forward to pleasing not only your diners but also the staff that you hire once the store is ready to open. All this contributes to the flow of the place and makes your diners and employees enjoy the time spent inside an establishment that is well organized and offers a fantastic spatial experience.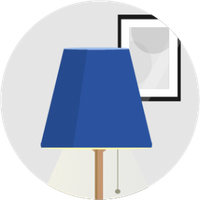 Decoration & Lighting
There are some things that can make or break the customer's experience in a food service establishment. Here at Quick Service Restaurant and Retail Design Group, we make sure that the decoration and lighting designs are exactly what your business needs.
The decoration is the aspect of restaurant design that brings life to your place and makes it unique. Every piece of furniture should match with the rest of the design to evoke an impactful first impression for every customer that comes inside of your establishment.
In this part of the restaurant design process, we consider every aspect that can affect your customers in the future. We look behind the psychology of color to make sure that they match with the mood you want to create for the business.
The lighting will set the mood of a restaurant, especially for a dining room. Light can define what ambiance your customers will experience. Vibrant lighting design with modern fixtures can be the perfect match for a coffee shop that is looking to bring people in to study and feel productive. A low, mood-lighting setup can be the right match if you are looking for a more intimate restaurant experience that your diners will enjoy for a longer-than-usual stay.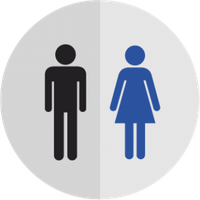 Restrooms
In restaurant design, you have to be aware of placing the restrooms in a place that is not going to interfere with the customer's experience. A poorly located bathroom can hinder the experience of diners due to smells or the constant sounds coming from the lavatory facilities.
You don't have to worry, as the designing team at Quick Service Restaurant and Retail Design takes these matters seriously. We know that your ultimate goal is to deliver a quality experience to your customers once your business is up and running and we assure you that we can deliver that and more!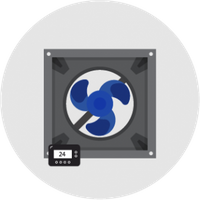 Heating & Ventilation
There's nothing more uncomfortable than going to a restaurant to enjoy a wonderful meal and being contorted into submission by a vent that's blowing a cold tempest on you and your food. We know how important it is to keep the room at the right temperature for everyone to enjoy. For this reason, we take into consideration every aspect of the design to accommodate the right ventilation to keep your facilities at a pleasing temperature without ruining the experience of your customers.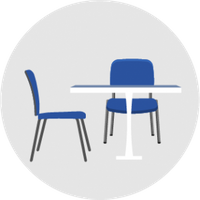 Seating Layout & Customer Flow
An important aspect of our restaurant design plans is to help the customer feel like they are in a place where they feel welcomed instead of feeling like they are trapped in a maze. The design of each corner of your restaurant's dining room and common areas have a purpose, and every decision we make considers the efficiency of flow. We want customers and employees to feel like the hallways, booths, tables, and chairs are well-located and that the restaurant space evokes a freeing experience.
A restaurant or foodservice establishment would not be complete without a well-structured kitchen to support the main aspect of the business. Your kitchen usually takes around 30% of your site's space with an additional 10% of prepping and dishwashing space. This means that almost half of the square footage of the site will be used for the core of the business. Here are the things we consider when designing such an important part of your business: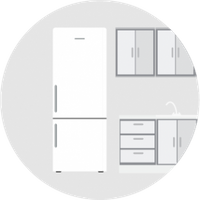 Kitchen Layout
At Quick Service Restaurant and Retail Design Group, we believe in creating the kitchen that fits perfectly with your needs. The types of foods you will serve your customers will define the layout and structure of the kitchen. Our design team goes above and beyond to make sure that every corner, every hallway, and every kitchen top is placed with the intention to make your staff and your food flow like clockwork — every piece has to be moving in sync for the common goal!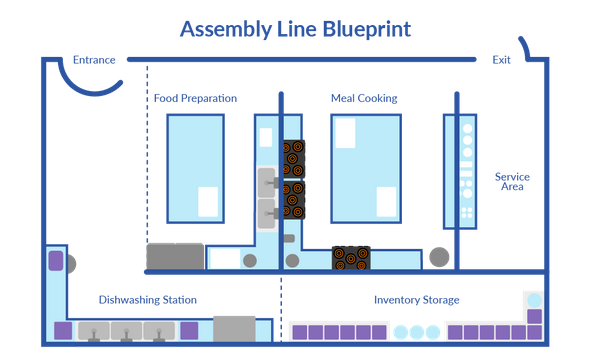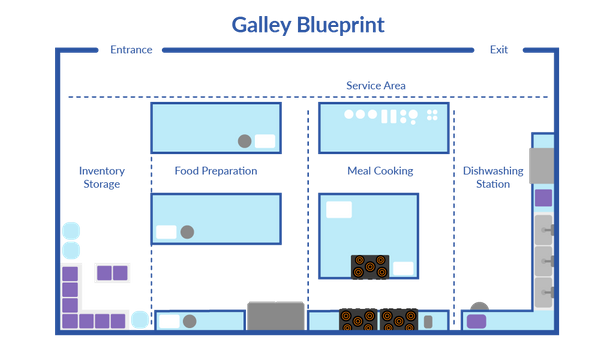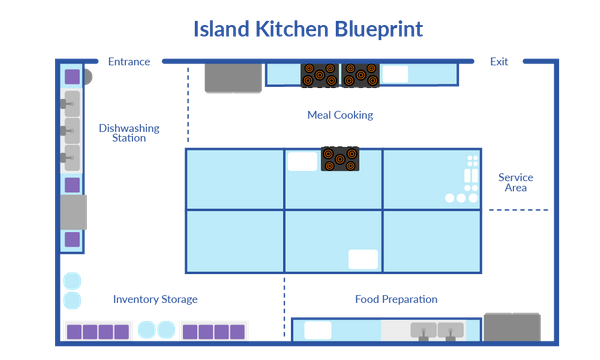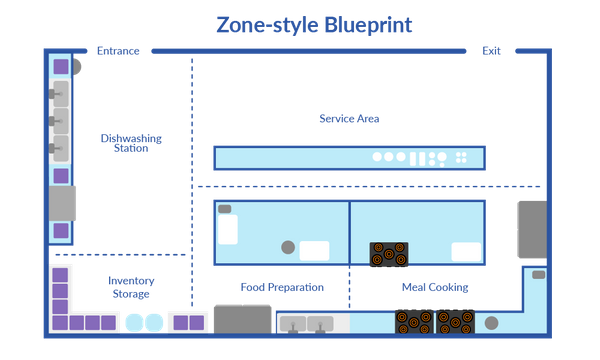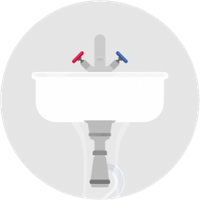 Plumbing & Drainage
Water lines, sewers, and faucets are major design pillars due to guidelines set by health department codes, as well as building codes. The need for drainage with slanted floors and hand-washing stations every few feet of workable space forces the necessity of particular finesse in the art of designing a kitchen. Each station has to be planned around a myriad of details — hot water, grease traps, proper drainage, cold water outlets, and more aspects that are required by different building and health codes.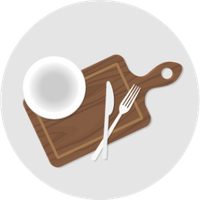 We Think About The Equipment
In the process of designing a restaurant's kitchen, we take into consideration the budget and necessities for your future investment. Kitchen equipment can rack up tens of thousands of dollars, so we will design your kitchen with what's strictly necessary concerning your budget.
Our design team at Quick Service Restaurant and Retail Design Group considers power load distribution when it comes to placing outlets for the high power-drawing pieces when arranging the plans for your commercial kitchen, and we also think about the organization of equipment that should not be placed together — fryers and water sinks or fridges next to high heat-yielding equipment.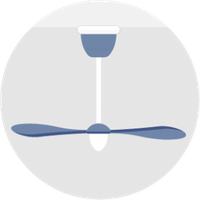 Air Ventilation
The temperature in kitchens can increase enough to lower the life of some of your equipment. At the same time, having the kitchen surpass a certain temperature can be a hazard for your employees. We understand how important it is to keep a kitchen functioning to its full potential and allowing your equipment its longest possible life. That's why we design with efficient airflow in mind to give you a final product that will last, while at the same time creating a great space for your kitchen staff.
If you are ready to commit to the design process
and start your journey as a business owner, Quick Service Restaurant and Retail Design Group is here to provide you with the best services for your future investment.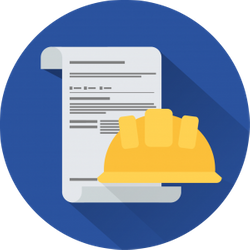 Once every detail of the restaurant design has been worked out, we start the negotiations with the contractors. In this phase, we start by scheduling and hosting pre-bid meetings on-site to expose the project to the possible contracting companies that would like to tackle the project. Bid documentation is created to allow a straightforward process and have everything structured and streamlined.
There're many things to consider when receiving biddings and making a decision about which company to hire to complete the project that will become your dream business. For this, we offer constant assistance with the contract interviews. That way, you can rest assured that we will help you find the perfect match for your restaurant. Additionally, we administer the biddings for the project to match your needs for the construction while keeping in mind the budget that you have agreed to work with.
You don't have to worry about bids' request for information (RFIs), and we will be present to review and compare bids while also advising you of any oddities or bid inconstancies.
Things to consider when receiving a bid — don't worry, we are going to be there to help you!
The best price does not always mean the best choice
It is understandable that keeping the project on budget is the main concern that most people have when proceeding with an investment of this magnitude, but the lower price shouldn't be your first choice. Some sacrifices can be made in construction to hire a better contractor. Later, after your doors open for business and you start receiving dividends, you can bring back the other items that you wanted to include in the first place. There can also be a change in the budget to accomplish the full breadth of the design, but those are decisions that can be made if the occasion arises.
Clarity when presenting breakdowns and prices
Being clear from the getgo is very important for a solid relationship to form around a construction project. A company that is not giving you all the details upfront can prove to be unpleasant to work with in the long run. We make sure that there are no hidden fees or any hidden options in the bidding contracts. That way, your project can sail smoothly until completion.
The organization presented when bidding
If there's a problem from the beginning with an unorganized contractor, you can expect the project to drag or run into constant problems with the crew and progress.
Detail-Oriented
Construction requires finesse and a measure-twice-cut-once mentality. At Quick Service Restaurant and Retail Design Group, we look for those individuals that show the determination with the attention to detail to have your project finished with overwhelming satisfaction.
Achievable deadlines and milestones
A good measuring tool when accepting and moving forward with a bid is the time estimated and the milestones that the contractor is willing to express — and more importantly, to fulfill. At Quick Service Restaurant and Retail Design Group, we provide a knowledgeable perspective to know how long a project could take, and from that, we can determine if a contractor is either overshooting with development times or setting themselves up for failure. This way, you can be sure that your future restaurant is in good hands!
Previous Contracts
The previous works of a bidder can be a great selling point since you are seeing results from their past developments. You can have two or three good bidders on standby to make a decision, although if one of those bidders has done projects that resembles yours, then it could be a good choice to hire that contractor above all others.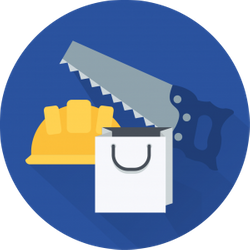 PHASE FOUR:
Construction Period Assistance
At last, the contractor has been hired to start the construction of the exciting project. You don't have to worry because Quick Service Restaurant and Retail Design Group has your back and we will be assisting you throughout the process.
Our team will conduct inspections to make sure that the project is being carried out the way it was intended and with the parameters you agreed on. At the same time, we will be working closely, reviewing drawings, and conducting meetings for equipment rough-ins.
Once the project has reached completion, we do our final inspections and guide the final walk-thru with a detailed punch list — you don't have to worry about any detail being left behind, we got your back!
We are excited that you are taking the steps to start a new chapter in your life. Starting a restaurant business is no small feat and can be complicated to align the pieces of this gargantuan project. Quick Service Restaurant and Retail Design Group is here to help take some burden off of your shoulders and we guarantee that you are going to be pleased beyond expectations with every step we take together!

Preliminary Design Phase

Design Phase

Bidding / Negotiations

Construction Period Assistance